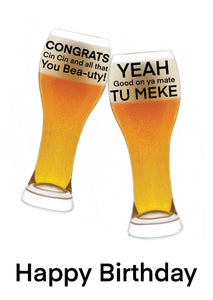 Cheers to that.  Happy Birthday Greeting Card. A bit of Euro, Aussie, and Kiwi.
"Cin Cin" pronounced "Chin Chin" and "Tu Meke" is Maori for "Too Much"  A very Kiwi Card.  True Kiwiana.
 Chelsea Cards - Simply Different
© Peter Karsten





The inside of the card has been left blank for your own personal message. Complementary quality envelope supplied.  C6 size for economical postage.