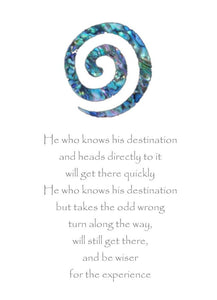 This greeting card incorporates quite a powerful message and is enhanced by the artists contemporary take on the Koru swirl image infused with a glint of the luminous and uplifting tones of the paua shell. The swirl symbolises New Beginnings, New lIfe, Growth, Peace and Harmony.  The text reads: He who knows his destination and heads directly to it will get there quickly.  He who knows his destination but takes the odd wrong turn along the way, will stil get there, and be wiser for the experience.
Art and words by New Zealand Artist and Writer Peter Karsten, adapted from his Little Book of Wisdom    "Be Great  Be You"
New Zealand Inspirations
Capturing the Essence of our Beautiful Country
Chelsea Cards - Simply Special
© Peter Karsten

The inside of the card has been left blank for your own personal message. Complementary quality envelope supplied.  C6 size for economical postage.