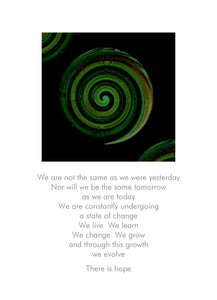 We are not the same as we were yesterday.  Nor will we be the same tomorrow as we are today.  We are constantly undergoing a state of change.  We live. We learn.  We change.  We grow -  and through this growth we evolve.  There is hope.
Words and image by New Zealand Artist and Writer Peter Karsten.
New Zealand Inspirations
Capturing the Essence of our Beautiful Country
Chelsea Cards - Simply Special
© Peter Karsten

The inside of the card has been left blank for your own personal message. Complementary quality envelope supplied.  C6 size for economical postage.